Men's Book Discussion Next Monday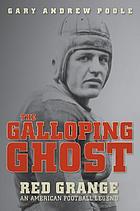 The Men's Book Discussion Group meets Monday, November 17, at 7:00 p.m. The November selection is
The Galloping Ghost: Red Grange, an American Football Legend
by Gary Andrew Poole. If you are a U of I football fan, you won't want to miss this. Copies of the book are available to borrow at the Reference Desk.
For information about the Men's Book Discussion Group, contact John Rimer at the library's Reference Desk, (630) 529-1641, press 3.
Visit the
Men's Book Discussion Group on Goodreads
for a preview of the discussion questions, information about the author and some online discussion.